Sebastião Salgado(b.1944) is one of the leading social documentary photographer and photojournalist working in the world today. He began his career as a professional photographer in Paris in 1973 and subsequently worked with the photo agencies Sygma, Gamma and Magnum Photos.
In 1994 he and his wife Lélia created Amazonas images, which exclusively handles his work. Salgado's photographic projects have been featured in many exhibitions as well as books, including Other Americas (1986), Sahel, L'Homme en détresse (1986), Workers (1993), Terra (1997), Migrations (2000), The Children (2000), Africa (2007) and Genesis (2013).
The world-renowned photographer has received many awards, including the W Eugene Smith Grant in Humanistic Photography, and his many books have been published to great acclaim. He is a Unicef Goodwill Ambassador and an honorary member of the Academy of Arts and Sciences in the United States. He is currently based in Paris.
The Genesis project unveils a photographic journey through the planet's unspoiled regions where man lives in harmony with nature. A visual tribute to the majesty and fragility of planet Earth. In this article we cover an in depth perspective about the project, exhibition and book, while showcasing an deep interview with the creator and revealing some genial photographs from the Genesis collection that you should study.
GENESIS Project
GENESIS, a new opus is the result of an epic eight-year expedition to rediscover the mountains, deserts and oceans, the animals and peoples that have so far escaped the imprint of modern society – the land and life of a still pristine planet. The GENESIS project, along with the Salgados' Instituto Terra, are dedicated to showing the beauty of our planet, reversing the damage done to it, and preserving it for the future.
'This has been one of my longest photographic adventures: eight years researching, exploring and celebrating nature's unspoiled legacy. I have journeyed through 32 countries to rediscover the mountains, deserts and oceans, the animals and peoples that have so far escaped the imprint of modern society. It is a pictorial depiction of the lands and lives of a still pristine planet. I feel Genesis also speaks urgently to our own age by portraying the breathtaking beauty of a lost world that somehow survives. It proclaims: this is what is in peril, this is what we must save.' - adds Salgado on the Genesis collection.
Like other work of Sebastião Salgado, the Genesis reportages have been, and continue to be, published in, among others, France's Paris Match, the USA's Rolling Stone, Spain's La Vanguardia, Portugal's Visão, the United Kingdom's The Guardian and in Italy's La Repubblica.
From an recently published interview within Canon, Sebastião Salgado explains that his epic Genesis project, he used an EOS-1Ds Mark III, and his advice young documentary photographers is, predictably, not technical: "You should have a good knowledge of history, of geopolitics, of sociology and anthropology to understand the society that we're part of and to understand yourself and where you're from in order to make choices. A lack of this knowledge will be much more limiting than any technical ability."
GENESIS, The Exhibition
Sebastiao Salgado never does things by half and his latest project, GENESIS, a visual ode to the majesty and fragility of our planet is being celebrated within an international exhibition tour at the Natural History Museum in London (premiere); the Royal Ontario Museum, Toronto; Ara Pacis Museum, Rome, Italy; Jardim Botânico, Rio de Janeiro; Musée de l'Elysée, Lausanne, Switzerland; La Maison Européenne de la Photographie (MEP), Paris and SESC Belenzinho, São Paulo. The exhibition unveils extraordinary more than 200 selected prints of landscapes, wildlife and remote communities by this world-renowned photographer. It is important to say that Salgado's exhibitions have been seen by millions of people throughout the world.
The epic scale exhibition is divided into five sections dedicated to the geographical areas Salgado has photographed: Planet South, Sanctuaries, Africa, Northern Spaces, Amazonia and Pantanal.
"In Genesis, my camera allowed nature to speak to me. And it was my privilege to listen." —Sebastião Salgado
The curator of the exhibition, his wife Lélia Wanick Salgado, editor and designer of the books and exhibition curator adds:
"Genesis is a quest for the world as it was, as it was formed, as it evolved, as it existed for millenia before modern life accelerated and began distancing us from the very essence of our being. It is a journey to the landscapes, seascapes, animals, and peoples that have so far escaped the long reach of today's world. And it is testimony that our planet still harbours vast and remote regions where nature reigns in silent and pristine majesty.
Such wonders are to be found in polar circles and tropical rainforests, in wide savannahs and scorching deserts, on glacier-covered mountains and solitary islands. Some regions are too cold or arid for all but the hardiest forms of life, others are home to animals and ancient tribes whose survival depends on their isolation. Together they form a stunning mosaic of nature in all its unspoiled grandeur. Through these photographs, Genesis aspires to show and to share this beauty. It is a visual tribute to a fragile planet that we all have a duty to protect."
GENESIS, The Book
Salgado's vision of the Earth's mesmerizing scale, order, and beauty has been captured within a book that showing us nature, animals, and indigenous peoples in breathtaking beauty. The quality of this photographic manuscript, published in hardcover by TASCHEN is unbeatable. Mastering the monochrome with an extreme deftness to rival the virtuoso Ansel Adams, Salgado brings black-and-white photography to a new dimension; the tonal variations in his works, the contrasts of light and dark, recall the works of Old Masters such as Rembrandt and Georges de La Tour. Here is what you will discover in GENESIS, according to the producer, Lelia Salgado Wanick:
The animal species and volcanoes of the Galápagos; penguins, sea lions, cormorants, and whales of the Antarctic and South Atlantic; Brazilian alligators and jaguars; African lions, leopards, and elephants; the isolated Zo'é tribe deep in the Amazon jungle; the Stone Age Korowai people of West Papua; nomadic Dinka cattle farmers in Sudan; Nenet nomads and their reindeer herds in the Arctic Circle; Mentawai jungle communities on islands west of Sumatra; the icebergs of the Antarctic; the volcanoes of Central Africa and the Kamchatka Peninsula; Saharan deserts; the Negro and Juruá rivers in the Amazon; the ravines of the Grand Canyon; the glaciers of Alaska... and beyond. Having dedicated so much time, energy, and passion to the making of this work, Salgado likens GENESIS to "my love letter to the planet."
Two men, one mission: Salgado talks with Benedikt Taschen about the photographic project that changed his life.
GENESIS, The Photographs
Over 30 trips—traveled by foot, light aircraft, seagoing vessels, canoes, and even balloons, through extreme heat and cold and in sometimes dangerous conditions—Salgado created a collection of images showing us the geology, the flora and fauna, the people in never-seen beauty. Below you will find a small selection of them with the courtesy of Amazonas Images.
Photography Office helps you buy Sebastiao Salgado's prints.
Let us know what is your favorite artwork, today.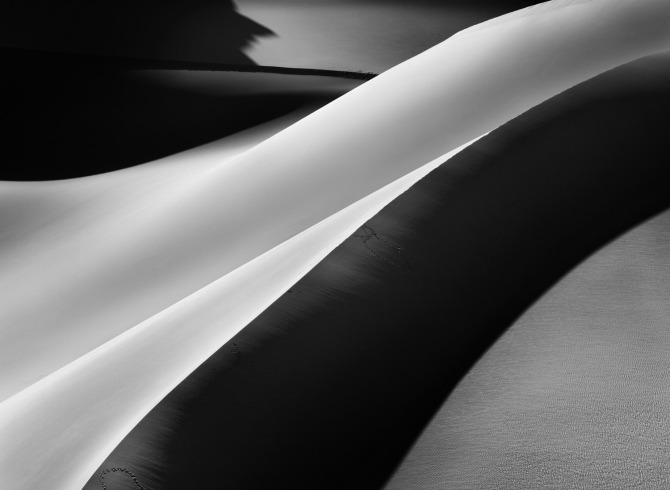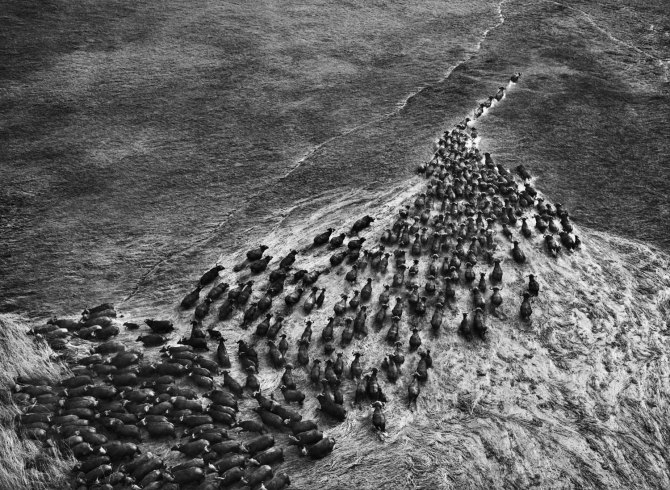 © Sebastião Salgado/Amazonas Images